Главная страница Standalone-dvr users manual

1 2 3 4 5 6 7 8 [ 9 ] 10 11 12 13 14 15 16 17 18 19 20 21 22 23 24 25 26 27 28 29 30 31 32 33



4 Overview of Navigation and Controls

Before operation, please make sure you have properly installed HDDs and all the cable connections.

4.1 Login, Logout & Main Menu

4.1.1 Login

When the system boots up, default video display is in multiple-window mode. Click Enter or left click mouse, you can see the login interface. See Figure 4-1. System consists of four accounts:

Username: admin. Password: admin. (administrator, local and network)

Username: 888888. Password: 888888. (administrator, local only)

Username: 666666. Passwords: 666666(Lower authority user who can only monitor, playback, backup and etc.)

Username: default. Password: default(hidden user)

For your system security, please modify you password after first login.

You can use USB mouse, front panel, remote controller or keyboard to input.

About input method: Clickil23jto switch between numeral, English character (small/capitalized) and denotation.

Note: 3 times login failure in 30 minutes will result in account lock!

SYSTEM LOGIN

User Name Password

Figure 4-1

4.1.2 Main Menu

When you login, the system main menu is shown as below. See Figure 4-2. There are total six icons: search, information, setting, backup, advanced and shutdown. Move the cursor to highlight the icon, then double click mouse to enter the sub-menu.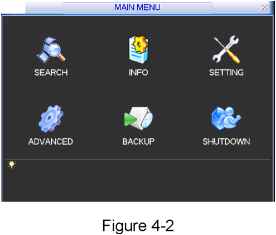 4.1.3 Logout
There are two ways for you to log out. One is from menu option:
In the main menu, click shutdown button, you can see an interface is shown as below. See Figure 4-3.
SHUTDOWN
Logout mi Password is t after logout.
Figure 4-3
There are several options for you. See Figure 4-4.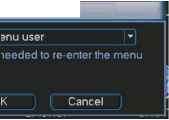 Logout menu user Switch user Restart application Shutdown Restart system
Figure 4-4
The other ways is to press power button on the front panel for at least 3 seconds, system will stop all operations. Then you can click the power button in the rear panel to turn off the DVR.
4.1.4 Auto Resume after Power Failure
The system can automatically backup video and resume previous working status after power failure.
4.1.5 Replace Button Battery
Please make sure to use the same battery model if possible.
We recommend replace battery regularly (such as one-year) to guarantee system
time accuracy.
4.2 Recording Operation 4.2.1 Live Viewing
When you login, the system is in live viewing mode. You can see system date, time and channel name. If you want to change system date and time, you can refer to general settings (Main Menu->Setting->General). If you want to change the channel name, please refer to the display settings (Main Menu->Setting->Display)
| | | | | | |
| --- | --- | --- | --- | --- | --- |
| | | Recording status | | | Video loss |
| | | Motion detection | | | Camera lock |
| | | | | | |
Note: Please refer to the following sheet for channel status. SI stands for opening switch function, Ш stands for closing switch function.
4.2.2 Manual record
Note:
You need to have proper rights to implement the following operations. Please make sure the HDDs have been properly installed.
4.2.2.1 Manual record menu
There are two ways for you to go to manual record menu.
Right click mouse or in the main menu, Advanced->Manual Record.
In live viewing mode, click record button in the front panel or record button in the remote control.
Manual record menu is shown as in Figure 4-5.
4.2.2.2 Basic operation
There are three statuses: schedule/manual/stop. Highlight icon O to select corresponding channel.
Manual: the highest priority. After manual setup, all selected channels will begin ordinary recording.
Schedule: channel records as you have set in recording setup (Main Menu-
>Setting->Schedule)
Stop: all channels stop recording.
MANUAL RECORD:
Record Mode All Schedule О
Manual Q,
1 2 3 4 5 6
9 10 11 12 13 14 15 16
О О О О
0000000*00000000 00000000000*0 О
Cancel
Figure 4-5
4.2.2.3 Enable/disable record
Please check current channel status: O means it is not in recording status,
means it is in recording status. You can use mouse or direction key to highlight channel number. See Figure 4-6.
MANUAL RECORD
Record Mode All
1 2 3 4 5
7 8 9 10 11 12 13 14 15 16
О ОООООООФОООООООО О О О О О О О О О О О О О О
Figure 4-6
4.2.2.4 Enable all channel recording
Highlight O below All, you can enable all channel recording. All channel schedule record