Главная страница Dvr features and function

1 ... 10 11 12

13

14



Figure 8-2
8.2 Enable Monitor
After successfully logged in, please select the device and then click connect/disconnect button (®) .
Select the channel you wan to view, click connect/disconnect button ( ) again.
Section 1
Section 2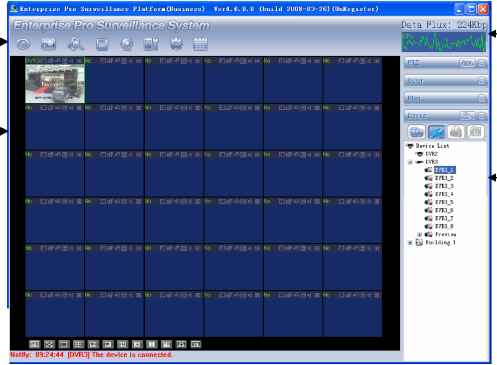 Section 5
Section 6
Figure 8-3
There are totally six sections:
Section 1: There are eight function keys: monitor, E-map, record, save, alarm, configuration, log and system. Section 2: Here is for you to view channel video.
Section 3: Here is for you to select display mode. System supports various display modes. HD item is for you to select priority between real-time and video fluency.
Section 4: Here is for you to view current help information. Section 5: Here is to display data flux and CPU status.
Section 6: There are four function buttons: PTZ, color, device, and plan. Please note system only supports one window in full-screen. Here we recommend resolution 1024*768. Select a device name and then click connect/disconnect button, you can connect current device to network. You can see a little red -cross below the name disappeared.
Click one window on you left side and then double click channel name on you right hand, you can see the corresponding video in current window. Please refer to Figure 8-4 for connection/disconnection information.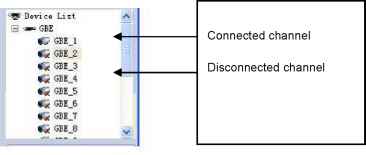 Figure 8-4
8.3 Add New Device
Click configuration button, you can see a network management unit shown as in Figure 8-5.
There are five function buttons, from left to right: device management, user manager, E-map, device configuration and upgrade.
f Het Manager niiit¥er4. 6. 0. 0 (build 2008-03-26) (IlnKesister)
Building 1
Device List
Device Name IF Address Fort ITumber User Heme Channel Amount
DVI£ DVT3 DVK
10.10.3.16 3TTT7 60 19194 122 3TTTT 10.10.5.80 3TTT7
admin admin
Add Edit Delete
Add organization structure
Add device
Device List DVE2 DVK3
El Euilding 1
Export Import Add Edit Delete
Figure 8-5
9 RS232 Operation
9.1 Network Connection
Before serial port operation, please connect matrix with DVR through RS232.
Then set DVR serial port protocol to the corresponding matrix protocol.
Note: please contact you local retail to confirm the DVR supports matrix protocol or
not.
9.2 Keyboard
Control keyboard is very convenient for multi-DVR control, menu options and PTZ control. Select keyboard control from system setting>RS232 >function, and then set concerning attributes such as protocol. Connect DVR RS232 port to shifter 25-pin RS232 port and then set proper control addresses for all connected DVRs. Now you can input DVR control address and use keyboard keys to set menu or control PTZ. See Figure 9-1.
Note: The keyboard works only when ACT light is on.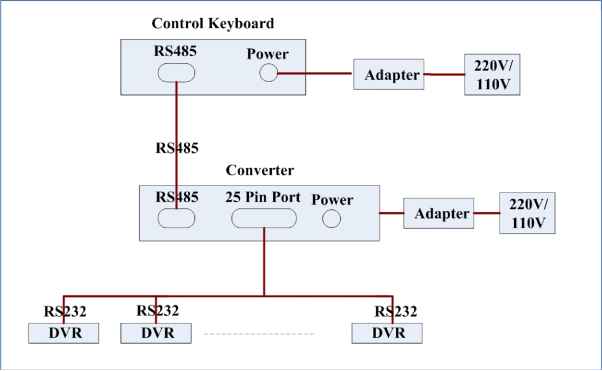 Figure 9-1





10 FAQ

1. DVR can not boot up properly.

There are following possibilities:

Input power is not correct.

Power connection is not correct.

Power switch button is damaged.

Program upgrade is wrong.

HDD malfunction or something wrong with HDD ribbon.

Seagate DB35.1, DB35.2, SV35 or Maxtor 17-g has compatibility problem. Please upgrade to the latest version to solve this problem.

Front panel error.

Main board is damaged.

2. DVR often automatically shuts down or stop running.

There are following possibilities:

Input voltage is not stable or it is too low.

HDD malfunction or something wrong wit the ribbon.

Button power is not enough.

Front video signal is not stable.

Working environment is too harsh, too much dust.

Hardware malfunction.

3. System can not detect hard disk.

There are following possibilities:

HDD is broken.

HDD ribbon is damaged.

HDD cable connection is loose.

4. There is no video output whether it is one-channel, multiple-channel or all-channel output.

There are following possibilities:

Program is not compatible. Please upgrade to the latest version.

Brightness is 0. Please restore factory default setup.

There is no video input signal or it is too weak.

Check privacy mask setup or your screen saver.

DVR hardware malfunctions.

5. Real-time video color is distorted.

There are following possibilities:

When using BNC output, NTSC and PAL setup is not correct. The real-time video becomes black and white.

DVR and monitor resistance is not compatible.

Video transmission is too long or degrading is too huge.

DVR color or brightness setup is not correct.





6. Can not search local records.

There are following possibilities:

HDD ribbon is damaged.

HDD is broken.

Upgraded program is not compatible.

The recorded file has been overwritten.

Record function has been disabled.

7. Video is distorted when searching local records.

There are following possibilities:

Video quality setup is too low.

Program read error, bit data is too small. There is mosaic in the full screen. Please restart the DVR to solve this problem.

HDD data ribbon error.

HDD malfunction.

DVR hardware malfunctions.

8. There is no audio when monitor.

There are following possibilities:

It is not a power picker.

It is not a power acoustics.

Audio cable is damaged.

DVR hardware malfunctions.

9. There is audio when monitor but there is no audio when system playback.

There are following possibilities:

Setup is not correct. Please enable audio function

Corresponding channel has no video input. Playback is not continuous when the screen is blue.

10. Time display is not correct.

There are following possibilities:

Setup is not correct

Battery contact is not correct or voltage is too low.

Crystal is not broken.

11. DVR can not control PTZ.

There are following possibilities:

Front panel PTZ error

PTZ decoder setup, connection or installation is not correct.

Cable connection is not correct.

PTZ setup is not correct.

PTZ decoder and DVR protocol is not compatible.

PTZ decoder and DVR address is not compatible.





When there are several decoders, please add 120 Ohm between the PTZ decoder A/B cables furthest end to delete the reverberation or impedance matching. Otherwise the PTZ control is not stable.

The distance is too far.

12. Motion detection function does not work.

There are following possibilities:

Period setup is not correct.

Motion detection zone setup is not correct.

Sensitivity is too low.

For some versions, there is hardware limit.

13. Can not log in client-end or web.

There are following possibilities:

For Windows 98 or Windows ME user, please update your system to Windows 2000 sp4. Or you can install client-end software of lower version. Please note right now, our DVR is not compatible with Windows VISTA control.

ActiveX control has been disabled.

No dx8.1 or higher. Please upgrade display card driver.

Network connection error.

Network setup error.

Password or user name is invalid.

Client-end is not compatible with DVR program.

14. There is only mosaic no video when preview or playback video file remotely.

There are following possibilities:

Network fluency is not good.

Client-end resources are limit.

There is multiple-cast group setup in DVR. This mode can result in mosaic. Usually we do not recommend this mode.

There is privacy mask or channel protection setup.

Current user has no right to monitor.

DVR local video output quality is not good.

15. Network connection is not stable.

There are following possibilities:

Network is not stable.

IP address conflict.

MAC address conflict.

PC or DVR network card is not good.

16. Burn error /USB back error.

There are following possibilities:





Burner and DVR are in the same data cable.

System uses too much CPU resources. Please stop record first and then begin backup.

Data amount exceeds backup device capacity. It may result in burner error.

Backup device is not compatible.

Backup device is damaged.

17. Keyboard can not control DVR.

There are following possibilities:

DVR serial port setup is not correct

Address is not correct

When there are several switchers, power supply is not enough.

Transmission distance is too far.

18. Alarm signal can not been disarmed.

There are following possibilities:

Alarm setup is not correct.

Alarm output has been open manually.

Input device error or connection is not correct.

Some program versions may have this problem. Please upgrade your system.

19. Alarm function is null.

There are following possibilities:

Alarm setup is not correct.

Alarm cable connection is not correct.

Alarm input signal is not correct.

There are two loops connect to one alarm device.

20. Remote control does not work.

There are following possibilities:

Remote control address is not correct.

Distance is too far or control angle is too small.

Remote control battery power is low.

Remote control is damaged or DVR front panel is damaged.

21. Record storage period is not enough.

There are following possibilities:

Camera quality is too low. Lens is dirty. Camera is installed against the light. Camera aperture setup is not correct.

HDD capacity is not enough.

HDD is damaged.

22. Can not playback the downloaded file.

There are following possibilities:





There is no media player.

No DXB8.1 or higher graphic acceleration software.

There is no DivX503Bundle.exe control when you play the file transformed to AVI via media player.

No DivX503Bundle.exe or ffdshow-2004 1012 .exe in Windows XP OS.

23. Forget local menu operation password or network password

Please contact your local service engineer or our sales person for help. We can guide you to solve this problem.

Slight difference may be found in user interface.

All the designs and software here are subject to change without prior written notice.

Please visit our website for more information.





Appendix A HDD Capacity Calculation

Calculate total capacity needed by each DVR according to video recording (video recording type and video file storage time).

Step 1: According to Formula (1) to calculate storage capacity that is the capacity

of each channel needed for each hour, unit Mbyte.

= 8 X 3600 1024 (1)

In the formula: means the bit rate, unit Kbit/s

Step 2: After video time requirement is confirmed, according to Formula (2) to calculate the storage capacity , which is storage of each channel needed unit

Mbyte.

= X X д (2)

In the formula:

h, means the recording time for each day (hour)

means number of days for which the video shall

be kept

Step 3: According to Formula (3) to calculate total capacity (accumulation) qT that is needed for all channels in the DVR during scheduled video recording.

In the formula: c means total number of channels in one

Step 4: According to Formula (4) to calculate total capacity (accumulation) qT that is

needed for all channels in DVR during alarm video recording (including motion detection).

qT =m, xa% (4)

In the formula: a% means alarm occurrence rate



1 ... 10 11 12

13

14